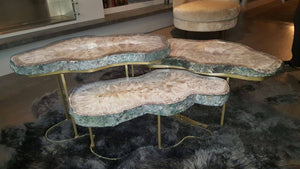 Welcome to Designs by Luca Inc.
Designs by Luca Inc.
Welcome to our new secure online store! Our products are made from a variety of natural materials like petrified wood, fossil marble, museum grade crinoids, exhibition grade agates, fossil coral, quartz crystal, labradorite, amethysts, citrine and other gemstones. We source rare materials from 5 continents and artfully craft them into interior masterpieces for your home and office.